Quirinus
Publicly Funded Project Demonstrates Flywheel Technology's Potential
The Quirinus Project is a publicly funded project in Germany that brings together various renewable energy power plants in a "virtual power plant", to enable the intelligent co-ordination of various technologies.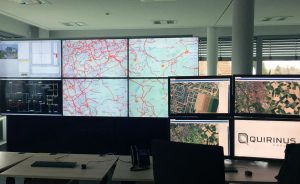 The idea behind a "virtual power plant" is to link various renewable generation assets and to identify distribution and local grids in a region via an information and communications network and then to use that network to manage power generation and consumption on a real scale.
In this way, regional grids can be controlled and stabilised at the local and DSO level, and this becomes relevant as more decentralised power generation such as wind and solar comes on-stream to replace decommissioned conventional power plants that burned fossil fuels.
Quirinus aims to establish how grid stability and power supply security can be achieved in a decentralised world, post-closure of conventional power stations.
Quirinus commissioned Stornetic to supply DuraStor containerised fast power storage systems at two locations in Germany, both with local "island" grid capabilities:
An open mine site in Nordrhein Westfalia near Jülich (Viehöfen), operated by RWE.
A biogas power plant in Gangelt, part of the regional grid operated by NEW AG, a German utility provider and power distribution network operator.
At both locations, the DuraStor fast power storage system was hybridised with CHPs (combined heat and power) systems and new grid technology solutions. Two main technical features were implemented:
Enhanced fast power management, to balance power mismatches between local generation and power load. High power transients are compensated by the DuraStor to avoid local grid constraints, overload situations and resulting power outages.
The ability for local power generation assets to:
a. provide high quality power in island grid environments (within strong frequency and voltage limits)
b. ensure smooth and safe transition into grid-islanded sections
c. safely resynchronise back to a public network connection.
About Quirinus
Quirinus has received significant funding from the European Union and the state of North Rhine-Westphalia in Germany. It is a consortium of local and distribution system operators and energy utilities, manufacturers and operators of data communication facilities, and energy storage and combined heat and power plants, along with two renowned research institutes.